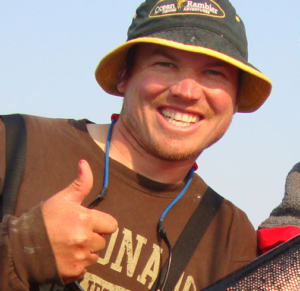 I got my first boat before I got my first car. I started fishing off Victoria at the age of 15. Soon I was catching enough fish that my Dad's buddies were asking to come out fishing with me. That is how it all started. At 17, I went commercial fishing on a salmon troller. We fished all around Vancouver Island and halfway to the Queen Charlottes
I started my professional guiding career in the Queen Charlottes as fish master for an exclusive lodge. I guided in the Queen Charlottes for five years until in 2000 I started Ocean Rambler Fishing Adventures with a 25ft Bertram. I started out fishing Victoria and Port Renfrew but soon realized Port Renfrew was lacking the amenities the clients were looking for. I moved my operation further West to Barkley Sound and Ucluelet which is a beautiful little fishing village.
Fourteen years later, I have upgraded to a luxury sport fishing vessel with my 28ft Bertram. This is the ultimate in luxury sport fishing. My mission is fishing but your enjoyment and safety is my number on concern.
I am fully insured and licensed by Transport Canada.